News
Training on SBCC for Block Level Coordinators of Pathfinder India
8-11 Nov 2016, Faridabad, Haryana
Pathfinder India is building capacities of front line workers in Haryana on reproductive rights of women and also use of family planning methods in the four districts – Mewat, Palwal, Faridabad and Rewari. The programme, called Project Salamati, covers 50 PHCs and extends upwards to district hospitals through 12 block coordinators and two district coordinators.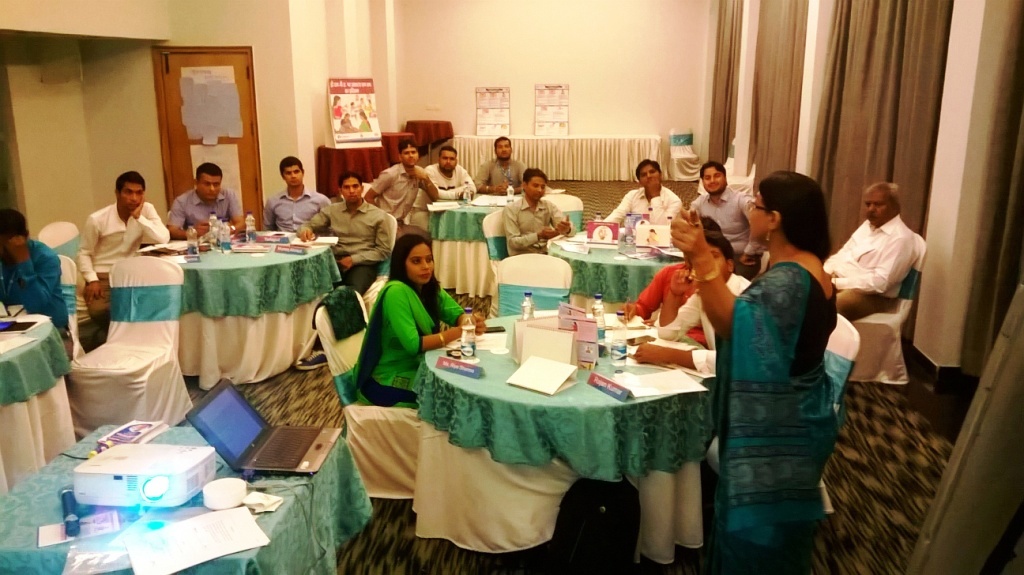 Pathfinder organised training programme for block, district level coordinators and programme staff on Social and Behaviour Change Communication (SBCC) at Hotel Saffron Kiran, Faridabad during 8-11th November 2016. The training was conducted by two lead trainers from New Concept approved by UNICEF, and 15 Block Project Coordinators (BPCs) participated in the sessions.
The objectives of the training was to orient the block and district coordinators on concepts of SBCC, to understand the importance of effective communication and counseling for behaviour change, and to build facilitation and supportive supervision skills of the coordinators to become effective communicators.
The 4-day training consisted of theoretical and hands-on sessions, with role play and mock sessions, aided by handouts and job aids designed to be used subsequently in the field to orient and enable the front line workers to communicate better in the course of their work.
The training adopted a mix of content deliberations by facilitators aided by presentations and training aids, group activities for case studies and situational analysis and activities to make it interesting and instructing at the same time. The course content was customized to the needs of the participants working in the field of reproductive health and family planning.
The course content included inter personal communication, creating a positive learning environment, principles of adult learning, art of facilitation, behaviour change process, creating a supportive environment, qualities of a good communicator, and effective use of communication materials.
"The session on Social and Behaviour Change Communication was very refreshing. The doll and pulley activity was interesting and got us all thinking about how we can make a difference with effective communication".
- Abhishek Singh, BPC, Palwal district
"All our participants proactively participated in all the sessions. It was good to see them involved."
- Dr. Janki Borkar, Sr Technical Advisor